Sunday through Thursday evening from 7:00 PM to 8:30 PM, a weekly guest speaker shares compelling biblical teaching seasoned with unique life experiences and personal stories. These free, informal evening sessions are held in the historic Memorial Chapel. Childcare and kids programs are available for a small fee.
Day camp and affordable Huckleberry Child Care allow you to set your own agenda or pick and choose from scheduled activities such as repelling, downhill mountain biking, and nature walks. Featuring a new speaker every week, our free evening programs include musical worship and biblical teaching.
Download the Summer at Hume brochure (pdf)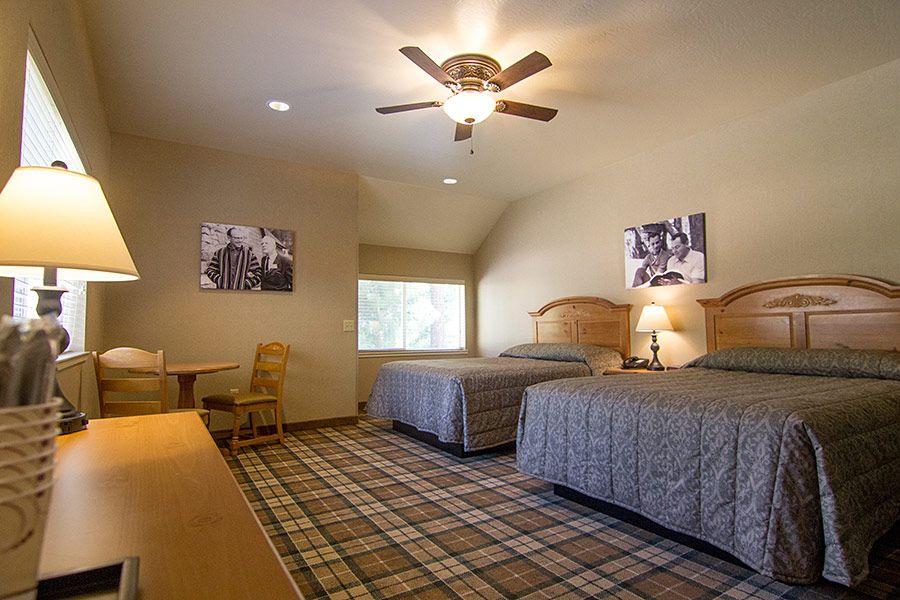 $180/night
up to 4 guests allowed
$180/night
up to 4 guests allowed
$165/night
up to 4 guests allowed
CHECK-IN
3:00 PM Monday-Friday
4:00 PM Sundays
***NO PETS, SMOKING, OR ALCOHOL ALLOWED IN HUME LODGING***
DEPOSIT
There is a non-refundable, non-transferable deposit of the first night's stay due upon making a reservation. The deposit will be forfeited if a reservation is canceled.
LABOR DAY WEEKEND
Lodge rentals during Labor Day weekend may not include additional amenities such as the mini-refrigerator, coffee maker, hair dryer, iron, ironing board, or phone.
RESERVATIONS // INFORMATION
info@hume.org
(559) 305-7770
(800) 965-HUME
Jimmy Sites follows the call of the Lord and the call of the wild in his books, documentaries, speaking events, and on his award-winning national television show Spiritual Outdoor Adventures with Jimmy Sites. Jimmy was named "American Outdoor Sportsman of the Year" by the Legends of the Outdoors Hall of Fame in 2014.
Dewey Bertolini: a committed follower of Jesus, unapologetically conservative in his theology, without being uptight, legalistic, judgmental, or angry. Hopeful in his outlook. Redemptive in his purpose. Joyful in his heart. Worshipful in his spirit. A man who prefers to define himself by what he is for (rather than what he is against): loving God, loving His Word, and loving people. He has been married to his dear wife Rebecca for 40 years. They have two grown children and four grandchildren.
Gil and Brenda live in Brush Prairie, Washington. They have seven children between them, who are all young adults, and a growing number of grandchildren! Gil has his Masters in Counseling and Brenda is a Life Coach. Their specialty area is the Stepfamily. The Stuarts have been featured on Focus on the Family, Family Life, and many other media outlets. Gil and Brenda feel that the best gift we can give our kids, our families, and our community is a strong healthy marriage.
After graduating with his Masters from Talbot Seminary, Rich and his wife Becky began working full-time for Hume where he directed the Joshua Institute. Rich's passions are discipleship and teaching God's word in a way that brings it alive in today's world. In his spare time, Rich enjoys leading Israel Study Tours (35 and counting), being outdoors and spending time with his wife and four kids. In 2016 Rich and his family moved to Michigan to join the GTI staff where he serves as General Manager.
Erik Thoennes is Professor and Chair of the Theology Department at Biola University and is a pastor at Grace EVFree, La Mirada. He was voted Professor of the Year twice, and was awarded the Faculty Excellence Award by his colleagues at Biola University. He is the author of "Life's Biggest Questions: What the Bible Says About the Things that Matter Most," and "Biblical and Theological Studies: A Student's Guide," Erik and his wife Donna have four children; Caroline, Paige, Samuel, and Isaac.
Darrin Jones is a passionate communicator, combining humor and real life adventures to challenge those who listen towards a deeper walk with Christ. Drawing on over 30 years of ministry experience his perspective has been influenced by time spent as a Pastor, living in France and North Africa, being a husband and a father and trying to figure out how to love his neighbors wherever he lives. He and his wife Julie currently reside in Concord, CA.
Tom is the Lead Pastor of Christian Assembly in Los Angeles, a growing church of 3,000 people each weekend. A gifted communicator, Tom loves to see how peoples' lives change for good as we understand and apply God's Word. A published author, his recent book "Curious" examines how Jesus uses questions to lead us closer to Himself. Tom's teachings have been used in 27 countries. Married to his wife Allison for 20 great years, they have three children, and are rabid Pittsburgh Steelers fans.
Richard Dahlstrom has been the Senior Pastor of Bethany Community Church in Seattle since 1996, which has grown from one location and 300 people, to six locations in the Puget Sound region and over 3500 people. He teaches globally with Torchbearer Missionary Fellowship and is the author of The Colors of Hope, which was selected by Christianity Today as one of the best books of 2011. Married for 38 years with three grown children, he and his wife spend most of their free time skiing and hiking.
2017 Teaching Series Audio Messages
Select a week below to hear the audio messages.
The purpose of meetings, seminars and activities at Hume Lake Christian Camps is to educate and inspire attendees with Biblical teaching and instruction. We also desire to follow government guidelines which require attendance at meetings for organized camps and educational organizations. Your participation at these meetings is necessary for us to accomplish these goals. Please plan to attend all meetings.
Hume Lake Christian Camps operates outfitting and guiding services and recreational events in the Sequoia National Forest under a special use permit with the United States Forest Service, and does not discriminate on the basis of race, color, or national origin.
© 2000-2017 Hume Lake Christian Camps. All rights reserved.