Sunday through Thursday evening from 7:00 PM to 8:30 PM, a weekly guest speaker shares compelling biblical teaching seasoned with unique life experiences and personal stories. These free, informal evening sessions are held in the historic Memorial Chapel. Childcare and kids programs are available for a small fee.
Day camp and affordable Huckleberry Child Care allow you to set your own agenda or pick and choose from scheduled activities such as repelling, downhill mountain biking, and nature walks. Featuring a new speaker every week, our free evening programs include musical worship and biblical teaching.
Download the Summer at Hume brochure (pdf)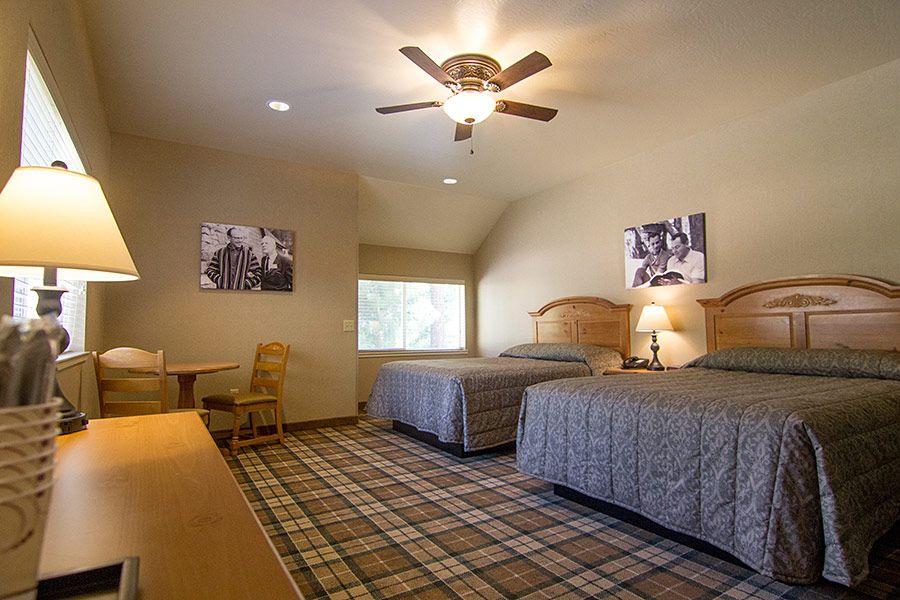 $175/night
up to 4 guests allowed
$175/night
up to 4 guests allowed
$155/night
up to 4 guests allowed
CHECK-IN
3:00 PM Monday-Friday
4:00 PM Sundays
***NO PETS, SMOKING, OR ALCOHOL ALLOWED IN HUME LODGING***
DEPOSIT
There is a non-refundable, non-transferable deposit of the first night's stay due upon making a reservation. The deposit will be forfeited if a reservation is canceled.
LABOR DAY WEEKEND
Lodge rentals during Labor Day weekend may not include additional amenities such as the mini-refrigerator, coffee maker, hair dryer, iron, ironing board, or phone.
RESERVATIONS // INFORMATION
info@hume.org
(559) 305-7770
(800) 965-HUME
About Dewey
Dewey Bertolini: a committed follower of Jesus, unapologetically conservative in his theology, without being uptight, legalistic, judgmental, or angry. Hopeful in his outlook. Redemptive in his purpose. Joyful in his heart. Worshipful in his spirit. A man who prefers to define himself by what he is for (rather than what he is against): loving God, loving His Word, and loving people. He has been married to his dear wife Rebecca for 40 years. They have two grown children and four grandchildren.
About JP
JP Jones is the Founding Senior Pastor of Crossline Church, a congregation of over 2,500. A published author and popular speaker, JP's radio program, Truth that Changes Lives, is listened to in over 160 countries. JP is on the Adjunct Faculty of Biola University teaching Theology and Biblical Studies. With a heart for evangelism and missions, JP makes several trips a year to both Haiti and Israel to preach the gospel and train pastors. JP is married to his wife Donna and they have 3 children.
About Rich
After graduating with his Masters from Talbot Seminary, Rich and his wife Becky began working full-time for Hume where he directed the Joshua Institute. Rich's passions are discipleship and teaching God's word in a way that brings it alive in today's world. In his spare time, Rich enjoys leading Israel Study Tours (35 and counting), being outdoors and spending time with his wife and four kids. In 2016 Rich and his family moved to Michigan to join the GTI staff where he serves as General Manager.
About Greg
Greg Koukl started out thinking he was too smart to become a Christian and ended up dedicating his life to the defense of the Christian faith. Greg believes Christianity can compete in the marketplace of ideas when it's properly understood and articulated. Greg is founder and president of Stand to Reason, and author of The Story of Reality: How the World Began, How It Ends, and Everything Important that Happens In Between; Tactics: A Gameplan for Defending Your Faith; and a radio show host.
About Erik
Erik is amazed every day that God saved him as a young boy in a small factory town in Connecticut and adopted him into his family. Dr. Thoennes is Professor of Theology, and Chair of the Theology Department at Biola University/Talbot School of Theology and also a pastor at Grace Evangelical Free Church in La Mirada, California. He was voted Professor of the Year twice, and was awarded the Faculty Excellence Award by his colleagues at Biola University. Erik also taught at Wheaton College and Trinity Evangelical Divinity School. He is the author of "Life's Biggest Questions: What the Bible Says About the Things that Matter Most," and "Godly Jealousy: A Theology of Intolerant Love." God has blessed Erik with his godly wife Donna, who has been his faithful ministry partner since they were married in 1989. Erik and Donna have four children; Caroline, Paige, Samuel, and Isaac.
About Ray
Ray Johnston is one of the Sr. Pastors of Bayside Church in Granite Bay, Ca. A 30-year veteran of both youth and adult ministry, he's the founding pastor of Bayside Church. Ray believes the church is called to outreach, spiritual growth and equipping leaders. In addition to his tireless efforts at Bayside, Ray serves as president of Thrive Communications Inc. and has authored several books. Ray also speaks frequently at conferences, leadership training events and family camps.
About Jeff
Jeff Lilley has been the president of Seattle's Union Gospel Mission since 2009, serving the poor, broken, and vulnerable. Previously, Jeff worked for 26 years at Hume Lake Christian Camps. Jeff is a gifted communicator who draws out powerful life lessons and insights into the heart of God which uncover the unique stories and truth God has hidden in each individual.
Jeff and his wife, Eugenie, have five adult children and fifteen grandchildren.
Dr. Michael and Amy Smalley
About the Smalleys
Michael and Amy specialize in teaching couples the principles of loving well and loving for a lifetime. They currently serve as co-founders of the Smalley Institute, have enjoyed 22 years of marriage, and have three children Cole, Reagan, and David.

While undergraduates at Baylor University, Michael's love for Amy was immediate, but Amy took some more convincing. Michael went to the ends of the earth (by becoming a college male cheerleader--Amy was on the Baylor Yell-Leading squad) to finally win her over. After graduation, they went on to earn master's degrees in clinical psychology from Wheaton College. Michael earned his Ph.D. at Barnham Theological Seminary.
About Sean
Dr. Sean McDowell is a gifted communicator with a passion for equipping people, to make the case for the Christian faith. He is an Assistant Professor at Biola University. Sean is the author, co-author, or editor of over seventeen books and is listed among the top 100 apologists. He graduated from Talbot Theological Seminary with a double Master's degree in Theology and Philosophy and earned a Ph.D. in Apologetics and Worldview Studies from Southern Baptist Theological Seminary.
2017 Teaching Series Audio Messages
Select a week below to hear the audio messages.
The purpose of meetings, seminars and activities at Hume Lake Christian Camps is to educate and inspire attendees with Biblical teaching and instruction. We also desire to follow government guidelines which require attendance at meetings for organized camps and educational organizations. Your participation at these meetings is necessary for us to accomplish these goals. Please plan to attend all meetings.
Hume Lake Christian Camps operates outfitting and guiding services and recreational events in the Sequoia National Forest under a special use permit with the United States Forest Service, and does not discriminate on the basis of race, color, or national origin.
© 2000-2017 Hume Lake Christian Camps. All rights reserved.